Headlight Experts AL/Bosch D13A6 OEM New Replacement Ballast
Direct Replacement OEM Ballast with Lifetime Warranty
Views: 0
Get it in 2 business days with free shipping if ordered in the next:
Regular Price
$399.99
Sale Price
$79.99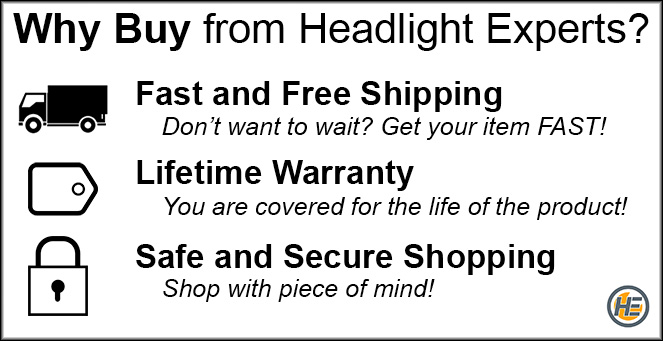 Headlight Experts offers a full line of OEM Replacement ballasts that replace your ballasts with a brand new replacement ballast for a fraction of the cost that your dealer charges. These are for vehicles that come standard with a factory HID Xenon lighting system. Compare our price to replacement ballasts from your dealer that are $400-$500 each. Add to this a free Lifetime Warranty on our ballasts, and let this be the last ballast you will ever need to purchase for your vehicle.
Our ballasts are direct replacements that simply replace your factory ballast in minutes. These are top quality OEM ballasts. You also may add factory bulbs with your order which also carry a lifetime warranty, and again, are a fraction of the cost your dealer charges.
Please note. These are sold individually. Typically if one ballast goes out, your other one is probably on the way out too, and we do recommend replacing both ballasts and both bulbs in these cases.
If you want the latest technology, best quality replacements that money can buy, look no further. Buy From The Experts!
Included in each and every kit:

(1) OEM High Quality Direct Replacement Ballast

Premium Grade Plug and Play ballast includes everything needed to easily swap out your defective ballast.

Lifetime Warranty on your full set of lights purchased through us.

FREE fully insured shipping to the United States and Canada is available on all our kits.

OEM Replacement bulbs are available to be added on to your order for a deep discounted price so you can be sure your full HID system is new, and in tip-top condition.
Specifications
- Direct Replacement Ballast
- Canbus Circuitry for a True Factory Replacement
- Voltage: DC6V-24V
- Lifespan: 60,000 hours
- Direct replacement with your factory connector (OEM Replacement)
- Lifetime warranty
- Sold individually
- OEM Number - 63127176068