H4656 Sealed Beam LED Headlight Conversion Kit
Top Rated Complete LED Light Kit with Lifetime Warranty
Views: 0
Get it in 2 business days with free shipping if ordered in the next:
Regular Price
$399.99
Sale Price
$199.99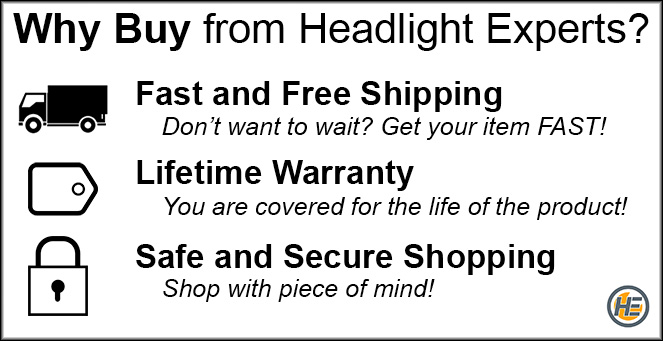 Headlight Experts 4"x6" H4656 Size Sealed Beam Conversion Kits feature OEM style real glass housings, equipped with an LED light source that is truly guaranteed to light up the road. Our kits are a direct fitment with no modifications required, including the electrical connector. Our lights when turned off, look 100% OEM keeping that classic look, but when you turn them on, they give you the bright LED light that you are looking for. OEM fit and finish.
Headlight Experts LED Bulbs are engineered to last a lifetime. They look the best, they run the coolest, and they last forever. These bulbs are top rated for a reason. Why settle for anything else when you can buy the best?
Headlight Experts LED Kits are built with Industry Leading, Top of the Line Phillips Lumiled ZES LED's that put out an amazing 6000K color temperature that is absolutely perfect for looks and visibility. Our lights put out 4000 lumens each for the best visibility that money can buy, while maintaining your factory beam pattern so you are not annoying the other drivers. Compare this to your factory halogens that put out 1200 lumens. These are over 3X brighter! These are designed in aircraft grade CNC machined housings that are engineered right, so there is a perfect beam with no light scatter.
Our "Platinum Head Design" at the tip of our lights works in relationship with the led panels to create a "laser light source" that illuminates further, with stronger penetration and a more defined beam pattern.
In addition, we made our LED sets with the slimmest design on the market so fitment is never an issue. The clearance is about the same as most of the factory bulbs that you are removing so there is no chance of incorrect fitment. Most competitors use bulky cooling units at the back that have a hard time fitting in most headlight assemblies. Our unique aluminum fin radiators encourages optimum cooling of our units so they can last a lifetime.
Our bulbs are designed with direct fit plug and play connectors that require no wiring. These will simply plug-in to your factory connector and replace your factory bulbs with no modifications required. This makes installation a breeze.
If you want the latest technology, best quality LED lights that money can buy, look no further. Buy From The Experts!
Included in each and every kit:

(2) OEM Style High Quality Glass Housings

(2) Latest Technology Bulbs featuring Phillips Lumiled ZES LED's that shine brighter and are 5 times as efficient as stock halogen bulbs.

Premium Grade Plug and Play set includes everything needed to easily install your new lights without cutting and splicing.

Lifetime Warranty on your full set of lights purchased through us.

FREE fully insured shipping to the United States and Canada is available on all our kits.
Warning Canceller Capacitors

This is a set of the pictured in-line capacitors to be installed as a plug and play installation for your new LED kit. These eliminate the dashboard errors that can be caused by installing aftermarket lights in your vehicle. These dashboard errors such as "Check Low Beam" can be extremely aggravating to some. Adding these will guarantee no error lights and a more professional installation. Some of the vehicles manufacturers that would definitely require these would be Audi, BMW, Chrysler, Dodge, Jeep, Mercedes-Benz, Mitsubishi, Volkswagen and Volvo.
Specifications
- 4,000 lumens per bulb
- Canbus Circuitry for a True Factory Replacement
- Built with Industry leading Phillips Lumiled ZES LED Chips
- Clockable/adjustable design for optimal beam patterns
- Aircraft Grade Aluminum Fin Radiator Heatsink
- 6000k Color Temperature
- Voltage: DC6V-24V
- Lifespan: 60,000 hours
- Direct replacement with your factory connector
- Lifetime warranty
- Works with Daytime Running Lights (DRL's)
- Sold in Pairs